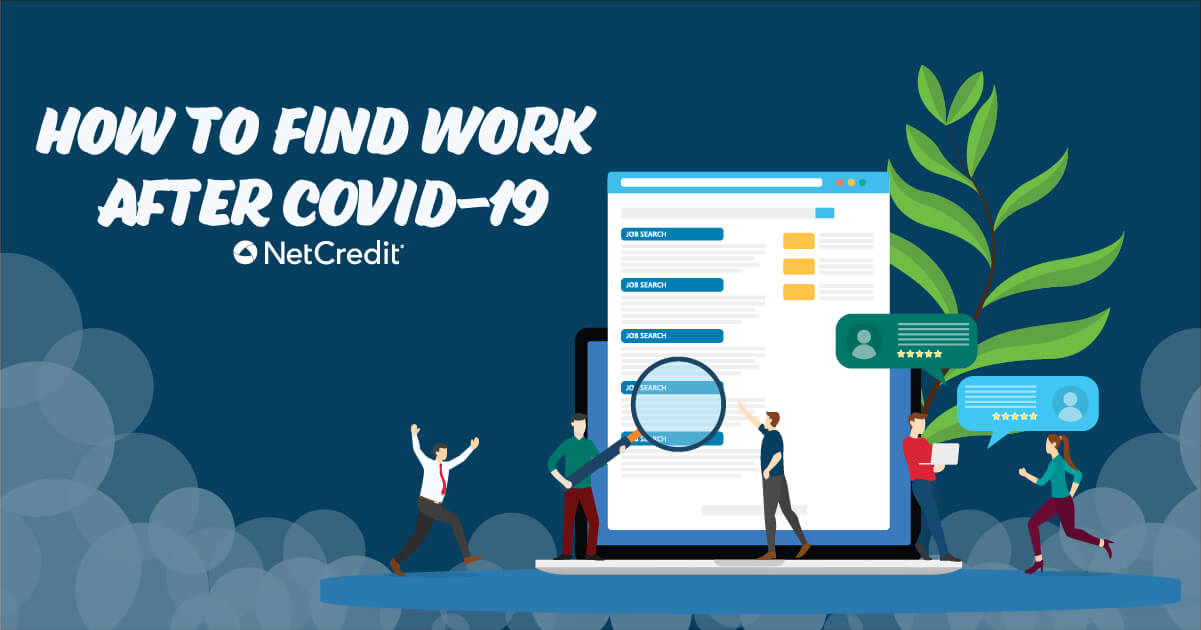 Resources and Tips to Find Work After a Crisis
In order to stop the spread of the COVID-19 virus, thousands of businesses across the nation have closed their doors. As a result, a staggering 22 million people have applied for unemployment benefits since the start of the pandemic. With social distancing guidelines and stay-at-home orders, the options for employment are currently very limited.
While there are certain types of jobs that are available right now — industries like healthcare, grocery and delivery services have all experienced a surge in employment demand— economic recovery in other areas may be a slow and challenging process.
But eventually, companies will start to reopen, and people will have more opportunities to return to work. If you're looking for a job, we'll help you land on your feet after COVID-19. Read our employment guide for tips and resources on how to find work after coronavirus.
Things You Can Do Behind the Scenes
Although there's no certain end date or concrete roadmap to full economic recovery, you can still brush up your resume and start the employment search process now.
Perfect Your Portfolio and Resume      
If your professional resume or portfolio aren't up-to-date, use this time to work on any necessary updates. Double- and triple-check for any grammar or spelling errors. Make sure to upload a current version on job board and professional sites, like LinkedIn, Monster and Indeed.
Another thing to keep in mind is that certain job search expenses are tax-deductible. Read the IRS guidelines for more information about guidelines and how to report the expenses on your tax return.
Learn a New Skill
You can gain a competitive advantage in your field by learning an advanced skill. If you're interested in starting a career in a different field, now is the time to build your new skillset from your own home. Here are some popular options for free and low-cost online courses, lectures and other educational resources:
Stay on Your Best Behavior
Regardless of your line of work, keep in mind that your next employment opportunity can come from anywhere. Make sure that your online presence is appropriate and professional — consider any content like photos and posts across social media that prospective employers may see. Remember to also update your voicemail greeting, if necessary.
Get in Touch With Your Network
Your network is one of the best ways to secure employment. Even though the crisis may be ongoing, it's never too early to send a warm note to your professional contacts. There's no need to wait to connect with leads until you're at a certain phase in your job search — just a simple message would be sufficient. Keep your note succinct; check out these templates if you need help writing a networking email or LinkedIn message.
During the Job Search
As the economy begins to ramp up after COVID-19, keep these tips in mind to look for work more strategically.
Stay Vigilant
The search for employment can feel like a numbers game — the more jobs that you apply for, the better your chances are of securing a position. But with the abundance of job applicants, there may be very steep competition for certain jobs. Make sure to diversify your options and increase your chances of finding the right role. Look for jobs in a variety of sources, like online job websites, local employment boards and your local newspaper. You might also consider small businesses that may be
too busy or small to post listings.
The pandemic has also driven predators and scammers to target those affected by COVID-19, from work-from-home and employment scams to fake messages from the government. As always, be careful with your personal information, and watch out for signs of fraud and other misleading practices.
Take Time to Prepare
Once you get to the screening and interview stages, your knowledge and enthusiasm about the job and companies that contact you become paramount. When you receive calls and responses about your resume and applications, it's important to have an upbeat, positive personality.
Keep these interview guidelines in mind:
Before any scheduled meeting, take time to research the company, the role, the responsibilities and even your interviewer, if possible.
Arrive to in-person interviews early, and make sure to present yourself with a neat and clean appearance.
Bring hardcopies of your resume and portfolio for every interviewer.
For virtual interviews, your appearance is just as important as in-person meetings, but there are different factors to consider, like your lighting, audio and other potential distractions. Read these tips to master digital interviews.
Follow up with a nice thank-you message within 24 hours of the interview.
Don't Get Discouraged
If you're not getting results as quickly as you'd like, try to remain patient and calm. Keep in mind that many businesses, big or small, need a lot of time and resources to open their doors. Rome wasn't built in a day, so your dream job may not exist yet.
In order to stay focused and productive in your job search, keep an eye on your stress and anxiety levels.
The search process may feel like a full-time job, but it's important to give yourself time off for rest and relaxation when necessary.
For more information:
Locate and apply for financial assiastance through your state with the Unemployment Benefits Finder.
Read the latest updates on economic-related coverage on the U.S. Department of Labor's Coronavirus Resources
You may qualify for health insurance if you've recently lost your job. Find out if you're eligible for coverage with this gov screener.