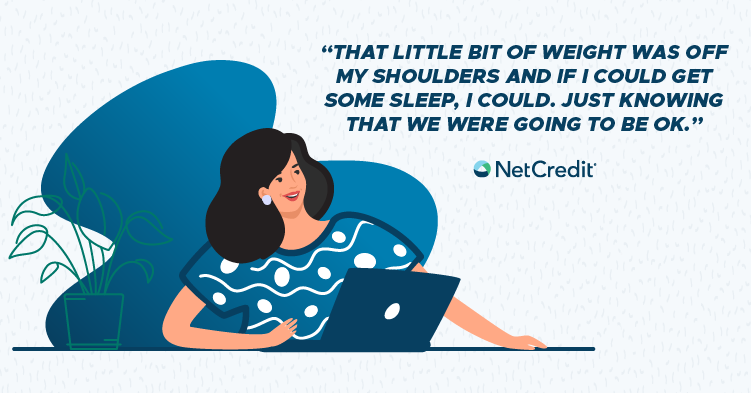 Facing Unexpected Financial Challenges: A NetCredit Success Story
Disclaimer: Customer was compensated for sharing their experience
Beth, a hardworking mom of three and school administrator, is no stranger to life's challenges.  When faced with an unexpected decrease in income, she found herself overwhelmed with existing bills and family expenses that could not be ignored. The stress of income loss was intensified further by a big change — Beth had just welcomed a new child to the family, making her time and income even more precious.
She knew the loss in income was only temporary, but needed something to help her family get by. Read on to see how Beth's NetCredit personal loan helped her on the path to financial stability.
Beth Faces Unexpected Financial Hardship
"I just didn't want to fall behind in the mortgage. So honestly, it was to bide time… We talked about our mortgage and thought about putting all of our bills on credit cards. We talked about taking out a personal loan from our bank. We could have deferred our mortgage, I remember, but then there were fees and things to do that. It was a little bit ago but we did have other options. This one just seemed like the fastest, the easiest and just knowing what the monthly payments would be every month or actually biweekly, just having that knowledge and knowing we could always make our payments…and you know the payments weren't something like $1,000 a month or something crazy that I wondered how we would make the payment. It was an amount I knew we could do."
Beth made sure to do her research before making any decisions. When dealing with finances, it's always important to understand your options and think long-term.
A Choice Made Easy 
"I called the banks first and the loan they gave us was going to be paid back in two months
and it was really quick and the monthly payment was a lot and I just didn't know without having a job, I didn't know if we could do that. Honestly, I just started looking for stuff online. I looked at a couple of budgeting apps and NetCredit came up on whatever app I was on.
I thought this process was incredibly convenient and I had just had a baby and I wasn't comfortable taking her out in public and I was able to do it online. It was just super nice to not have to go places and sign stuff with all these pieces of paper with a newborn.
I read the terms, I was comfortable with the repayment amount and I think there were a couple of options I could pick to make sure it would fit into my monthly budget. I remember knowing what the payment amount would be and how it would all look before I even hit submit. I think it let me play around with the amount I wanted and how it would look in my payment plan and I just remember feeling really comfortable with it."
Our goal at NetCredit is to make borrowing a positive experience for all customers. That's why we work hard to deliver an easy online application process that allows you to borrow funds any time, any place.

No Early Repayment Fees, No Worries
"I do know that I paid off both earlier and didn't go through the length of the loan. When I did go back to work…and we got a lump sum of money, I put it all on there but I think I did it all online and was able to figure out what the payout would be and I know I got emails and a receipt that it was paid in full. I don't think I ever called. It was super easy for me to figure it out."
NetCredit does not charge any prepayment penalties, allowing you to save on interest and get debt free even faster.
Moving Forward Financially
"We felt very blindsided by the sudden financial change and we just truly didn't see ourselves in that position. We are definitely now savers and we save a lot now just in case. It is nice to have that reassurance that if something were to happen that we could apply for another loan to NetCredit if we need it. But we are definitely trying to better prepare for the future. That sounds silly because we are adults but sometimes you don't see it coming!
Because we have a bit of a buffer, we've been able to write some fun into our lives. We're consistently setting money aside to travel. So we've been able to at least because prior, all of our paychecks were going towards all of our bills and paying off things…that was about it.
 It sounds crazy because at the time sleep wasn't an option [with a baby]….but, that little bit of weight was off my shoulders and if I could get some sleep, I could. Just knowing that we were going to be OK."
Thank you to Beth for sharing your journey with us and showing how NetCredit personal loans can help bridge the gap during trying financial times. If you'd like to read more customer experiences, visit our success story page.
The information in this article is provided for educational and informational purposes only, without any express or implied warranty of any kind, including warranties of accuracy, completeness or fitness for any particular purpose. The information in this article is not intended to be and does not constitute financial, legal or any other advice. The information in this article is general in nature and is not specific to you the user or anyone else.