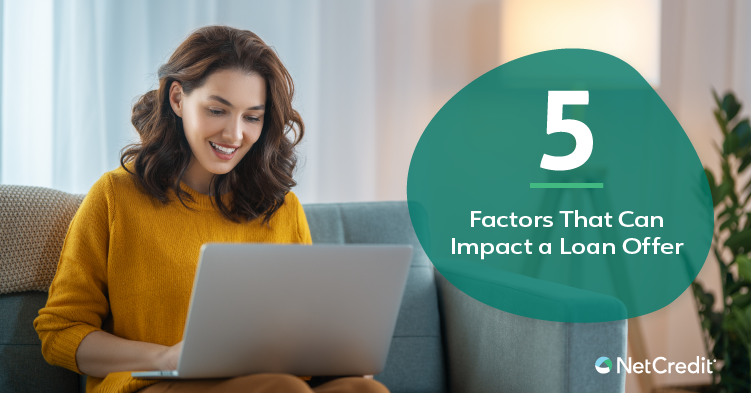 How Do Lenders Determine Loan Offers?
Lenders ask for a variety of information when you apply for a loan. It helps them determine your ability to repay the funds within a specified time period. Although lenders vary, there are several factors that help lenders determine a loan offer.
1. Your Credit History
Lenders like NetCredit consider a variety of factors from your credit history when determining loan offers. This can include the following data:
Credit Score: Your credit score refers to your numerical three-digit score, ranging from 300 – 850 points.
Credit Rating: A credit rating is a measurement of your numerical score. Common credit ratings include "bad," "fair," "good" and "excellent."
Payment History: This includes whether you've made payments on time and/or have defaulted on previous financial responsibilities.
2. Your Income and/or Employment History
Another important factor that impacts a loan offer is your income and employment situation. Applicants who have job stability generally have a better chance of getting approved for a loan. On the other hand, those with a highly variable income and/or unreliable employment situation may have a harder time repaying a loan. As a result, lenders generally don't extend credit to applicants who aren't able to afford to repay the loan.
3. Your Debt-to-Income Ratio
Similar to your income, lenders need to make sure your financial situation allows you to repay the loan. Your debt-to-income ratio, or your monthly debt payments divided by your gross income, is another important area that lenders consider when determining a loan offer. Although creditors vary, keeping your debt-to-income ratio to less than 36% can help improve your chance of loan approval.1
If you owe too much money on another financial responsibility, it can affect your ability to repay funds within a specific time period. As a result, a lender may decline your loan application.
4. Any Applicable Laws and Regulations
Other factors that may affect a loan offer are any applicable laws and regulations. Some loan products and services may only be available in certain states. Lenders must follow any applicable local and/or federal laws when reviewing applications or determining a loan offer.
5. Collateral
Some lenders may require collateral for certain types of financing, including mortgages, auto loans and other secured loans. Should you be unable to make payments on a secured loan, the lender may collect some or all of the collateral you provided toward your outstanding balance. However, lenders like NetCredit do not offer secured financing options, so collateral would not impact a loan offer on an unsecured loan.
References
1Murphy, Chris B. (2022). Debt-to-Income (DTI) Ratio.