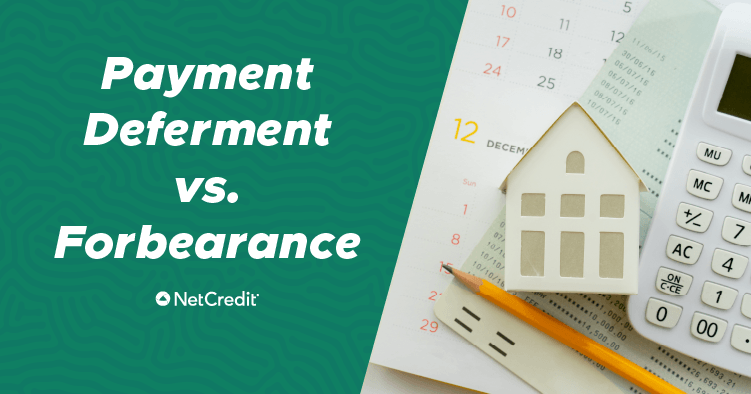 What is Payment Deferment?
If you're unable to meet a financial responsibility, like a loan payment or other bill payment due to financial hardship, you might wonder where to turn. Aside from finding assistance in your area, it's a good idea to contact your lender and/or service providers to notify them of your situation as soon as possible.
Many lenders offer loan accommodations to help their customers manage temporary financial difficulties. But before you enter into a new loan agreement, it's a good idea to review some common financial terms and explore what these options might mean for you.
Some of the most common loan accommodations include payment deferment and forbearance. We'll walk you through the most important details of payment deferment and forbearance, and how these terms differ.
What is Payment Deferment?
Payment deferment is a temporary loan accommodation that relieves borrowers of normal payments for a specific deferment period. Essentially, this accommodation extends the loan term for the length of time the payments are delayed. It's important to note that deferring payments is intended to provide temporary relief, but it doesn't absolve someone from their financial responsibility. Borrowers may need to qualify for a payment deferment based on specific lender criteria, such as financial hardship, job loss or other conditions. This type of loan modification is much more common with personal loan creditors than mortgage lenders.
Depending on the specific deferment agreement/creditor, interest may or may not continue to accrue on the loan, so make sure to check with your lender about such loan specifics before entering into a new agreement.
What is Forbearance?
Forbearance is another loan accommodation intended to provide temporary relief for borrowers facing financial hardship. Like payment deferment, forbearance typically involves delaying monthly payments for a specific period of time, but does not absolve borrowers from their payment responsibility.
In cases of forbearance, interest generally continues to accrue through the accommodation period, but can vary by lender. This type of loan modification is more common among mortgage lenders than with other types of loans.
What's the Difference Between Payment Deferment and Forbearance?
While payment deferment and forbearance agreements are similar in many ways, they generally differ by the types of loans the agreements are normally offered to accommodate. For example, payment deferments are more common with personal loans, while forbearance agreements are generally associated with mortgages. Additionally, payment deferment agreements may or may not prevent interest from accruing during the accommodation period, whereas forbearances typically do not stop interest from accruing in that time.
How Do Payment Deferment and Forbearance Affect My Credit Health?
Generally, payment deferment and forbearance agreements do not negatively affect one's credit score. As long as you fulfill your financial responsibility, including resuming payments as scheduled per any loan accommodation contract, you can keep your credit in good standing.
However, it's important to be as proactive about your credit health as possible, since missing or late payments can lower and negatively affect your credit score. Contact your creditor for more information about loan accommodation options.
How Can I Get a Payment Deferment or Forbearance?  
If you're unable to meet any payment responsibilities, contact your lender(s) as soon as possible to explore your options and notify them of your situation. While loan accommodations may not be available from all creditors, it's a good idea to be proactive when it comes to your credit health.
Reducing your budget or cutting back in certain spending categories can stretch your money further. Explore our collection of budgeting, saving and credit health resources to help get your financial plan on track.
The information in this article is provided for educational and informational purposes only, without any express or implied warranty of any kind, including warranties of accuracy, completeness or fitness for any particular purpose. The information in this article is not intended to be and does not constitute financial, legal or any other advice. The information in this article is general in nature and is not specific to you the user or anyone else.