Emergency Loans up to $10,000
Get funds the next business day or sooner.
Emergency funds through NetCredit
Financial emergencies like an unexpected home repair or loss of income can strain your finances. Depending on your state of residence, you may be eligible for one or two reliable NetCredit funding options:
Personal Loan
Up to $10,000
Lump-sum payout up front
Ideal for immediate expenses
Unsecured (no collateral required)
No early prepayment penalties
Line of Credit
Up to $4,500
Revolving access to funds
Ideal for emergency expenses as they arise
Unsecured (no collateral required)
Repayments based on what you've borrowed
Apply with a fast and easy application.
The online application takes just minutes and you'll receive an instant eligibility decision.
Know that your information is safe and secure.
Your data is protected by TrustedSite and 128-bit encryption. Plus, NetCredit never sells your personal information.
Work with a financial partner you can depend on.
You'll always know all your costs before signing, and if you ever have questions, our Customer Support Team is here to help.
How It Works

Check your eligibility.

Review your offer.
Choose what you want and see if the available amounts and terms work for you.

Get your money.
If approved, requested funds are typically deposited the next business day or sooner.
What We Offer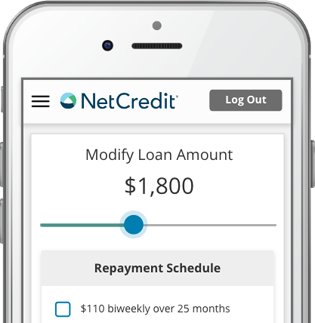 See how NetCredit loans can help with emergencies.
Louise works part-time at a coffee shop. Lately, her hours have been cut back drastically, making it difficult to pay her rent and bills on time.
She learns that she can quickly apply for a personal loan through NetCredit. If approved, she could borrow emergency funds to help pay for all of her necessities.
Louise likes that she is able to customize her personal loan amount and payment schedule to fit her needs, taking the stress out of repaying.
She checks her eligibility, is approved and signs her personal loan contract. With NetCredit fast funding, she can receive her funds the next business day or sooner.
Because there's no early repayment penalty, Louise is able to repay her personal loan faster once she returns to working normal hours, helping her save on interest.
Trusted by thousands of people like you.